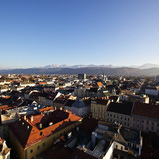 Klagenfurt – the Host City for DX2019!
Klagenfurt is situated at the beautiful Lake Wörthersee – one of the largest and warmest alpine lakes in Europe – and has nearly 95.000 inhabitants. Being a small city, with a Renaissance-style city center reflecting 800 years of history and with an Italian influence, Klagenfurt is a pleasant place to live and work.
Klagenfurt is not only a lively city but also a very historical town: predominantly Italian master builders have determined the appearance of the historic old town. Discover magnificent Renaissance buildings, facades renovated true to the original style and shady arcades in inner courtyards on a stroll through the old town; see the beauty of the buildings on a church walk; or visit one of the many museums, castles, and galleries.